Half a year before the presidential election in Russia, he publishes an excerpt from Public Mood Institute for the Study and Analysis of Conflicts of Russia (ICARUS). An independent think tank has surveyed a representative group of 1,600 respondents in recent weeks, and the survey results should be alarming. Vladimir Putin is running for another term.
42 percent subjects August 2023 refers to "Low salary and pension" is the biggest problem in Russia. In December of last year, this answer was chosen by "only" every fourth respondent, and this proportion is systematically increasing. And Analysis of this challenge is devastating for Vladimir Putin.
Half of the respondents It says that in their last six months Shopping opportunity "Notably" or "somewhat less," only 7 percent of respondents allowed themselves to spend more money. In addition Every fourth Russian surveyed pays attention to rising pricesIn December 2022, every ninth respondent focused on this aspect.
Impoverished Russian society decided to go to war
A picture of the poverty of the society can also be found in the answers to the question: How long can you live without a job? Every fourth respondent answers only seven days.
Every tenth person declares a few weeks of life without any influence. Every fifth respondent says his savings are enough for one month.
Russians about their financial situation/ICARUS/
"Special Military Operations", meaning the Russian attack on Ukraine, The second was the bigger problem In Russia. A year ago, every second respondent named this answer as the most urgent problem, now less than every third answer.
Russian The community fears another wave of mobilization ahead – 69 percent said they either definitely or rather did not want the Army to use reservation again. In addition, the number of people who lost someone close to them in the Kremlin's "special operation" (war – version) is also increasing.
Social fatigue is also evident on the topic of war. Russians want the war to end after next month (27%), but many 23 percent Respondents"Hard to say"What should be the duration of military operations?
Almost half (44%) say "Only partially" was able to achieve Placed by authorities Destinations in UkraineOne in four says it's a complete failure.
Russian propaganda works. Does society want an attack on Poland?
3/4 of the respondents In the IKAR surveyRather positive" or "positively" will react Ending hostilitiesOnly one in ten strongly opposes such a solution.
1,600 study participants were asked about the possibility Extensions of nodes War Baltic States and Poland. Most of them declare their support for such measures If these countries attack their homeland Or Persecution of Russian minorities in these countries.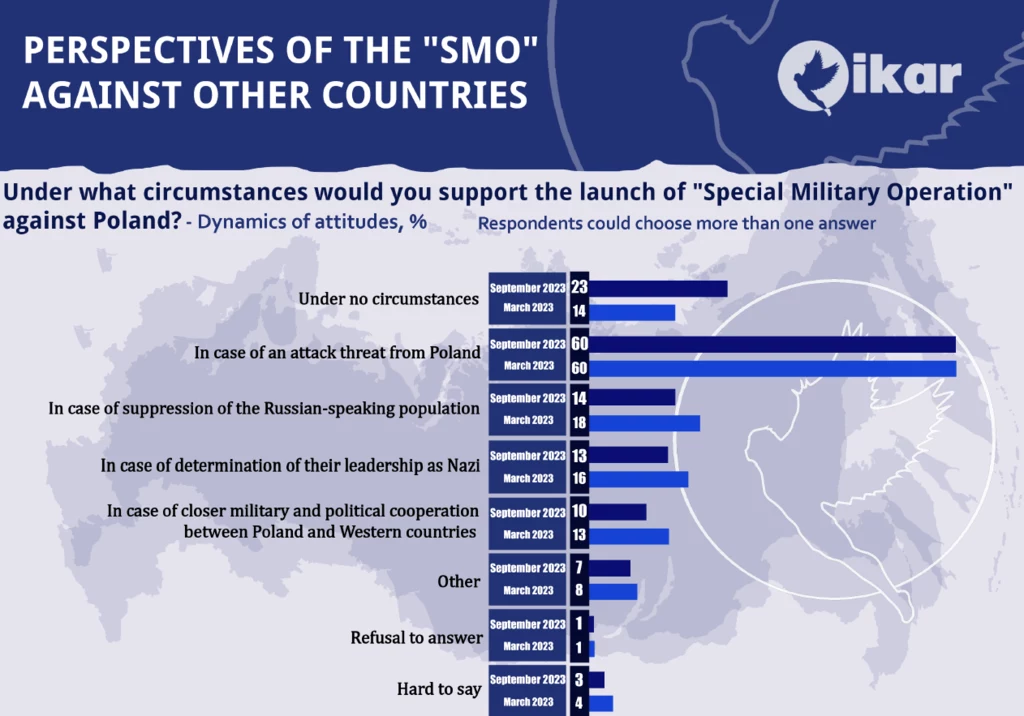 In the IKAR study, the Russians answered the question: What factors would you need to support an attack on Poland?/ICARUS/
Other problems in contemporary Russia include: To a lesser extent And High cost of medical services, Road condition And Unavailability and more Access costs Education.
At a standard level, respondents pay attention to problems related to corruption, unemployment and high energy prices. These responses are slowly becoming a structural challenge to the Kremlin administration.
What else do we learn about contemporary Russia?
According to the Research and Analysis Institute of Conflicts of Russia, despite all the social problems, Most Russians (63%) say Things are going in the right direction in their countryEvery fourth respondent has a different opinion.
At the same time There is a growing desire to express discontent through protestsThis should be a warning signal to the Kremlin.
Yet Vladimir Putin may be playing on old superpower sentiments. 71 percent argue that Russia's borders should end where they are drawn under international law.
But still Up to 45 percent tends to say"Restoring historical justice is more important than international law and formal state borders".
. "Hardcore internet junkie. Award-winning bacon ninja. Social media trailblazer. Subtly charming pop culture advocate. Falls down a lot."