Who is Jetson Pema?
She is truly beautiful, sweet-natured, modern yet respectful of the old Buddhist traditions. Jetson Pema, the dragon queen of Bhutan, quickly won the hearts of the people living in the lower Himalayan country, but received the sympathy of the entire world. However, Jetson, who was born on June 4, 1990, is considered an ordinary woman, even though her roots go back to an ancient Bhutanese noble family.
The pilot's daughter, the second of five children, received a good education. He was first educated in his home country and in India, where he studied English, history and economics. He then completed a degree in international relations, psychology and art history at Regent's University, London.
She met her husband at the age of seven
Interestingly, she first met her current husband, King Jigme Kesar Namgyel Wangchuck, when she was seven years old. He was 17 years old then and still a prince. During this, Jetson visited the school he attended.
He replied that if both are free then the contract is valid. It took a long time to happen. Meanwhile, Jigme went to study international relations and diplomacy in America and at the prestigious Oxford University in England. Upon his return in 2006, his father, King Jigme Singjae Wangchuck, decided to abdicate. However, it is not as easy as it seems.
The Duchess of Cambridge with Queen Jetson Pema of Bhutan at Tashicho Disong in Thimphu, Bhutan on the fifth day of her royal tour of India and Bhutan.

It was a big revolution for the small Himalayan country. With the new king came modernization and many changes. He waited two years for his coronation. First, he decided to change the country's constitution.
When she became queen, she was 21 years old
He relinquished his absolute power and allowed previously banned political parties. He eventually became the ruler of a constitutional monarchy. His wife was only 21 at the time, making her the youngest queen of our time.
"Many people have their own idea of ​​what a queen should be – she should be exceptionally beautiful, intelligent, beautiful. I think that with experience and time, a person can become a person who can change in any area. Life, with the right effort, is the most important thing for a queen. , as an individual she must always be a good person. As a queen, she must be committed to serving the people and the country"- he said in his speech in Parliament.
The king's father had four wives
In his personal life too he decided not to follow the centuries-old tradition. Before marriage, he started living with his fiancee. And he took another decisive step. In Bhutan, polygamy is allowed, meaning a man can have multiple wives. His father had four wives and had 10 children.
Interestingly, two of Jetsun's siblings married siblings of the current king – that is, his sister married the king's brother, and his brother married the king's half-sister. Although this relationship is very complex, another fact must be emphasized. King Jigme vowed that Jetson would be his only wife and never marry anyone else.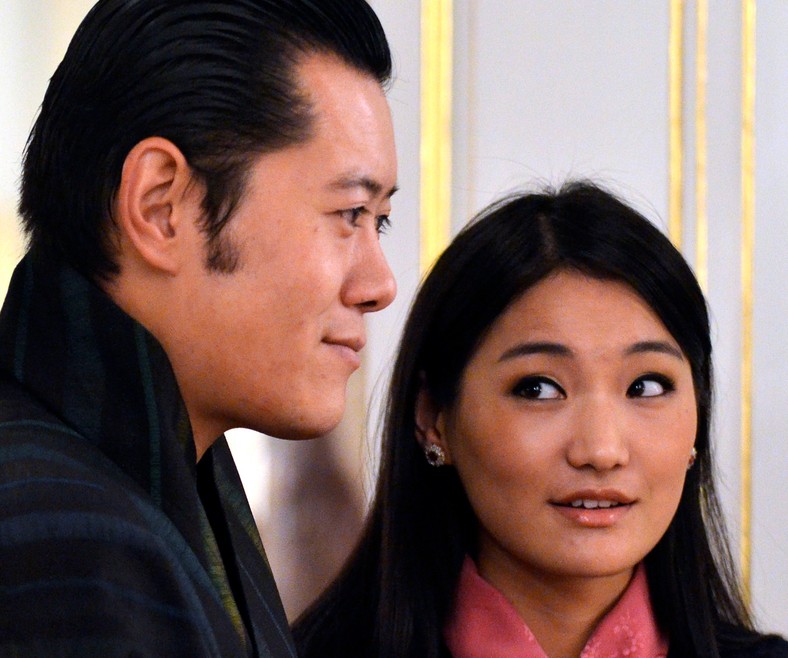 Yoshikazu Tsuno / PAP
King Jigme Kesar Namkhel Wangchuck of Bhutan with Queen Jetson Pema on November 15, 2011 in Tokyo, Japan.

This too was revolutionary. After his royal wedding in 2011, he announced that he had married the right woman. In front of a giant Buddha statue, instead of scarves, wedding rings were exchanged in the traditional way. As they sat together on the golden throne, the king placed a raven-shaped crown on his head and adorned his bride with a special brocade crown.
The third child is a princess
Their love blossoms to this day. In 2016, they gave birth to Crown Prince Jigme Namgil Wangchuck, whose title is Gyalsi. In 2020, the youngest prince, Jigme, joined the Ugyen family. In September, another big news reached the world. The Dragon Queen gave birth for the third time, and this time the little princess was born in the royal residence, Lingana Palace.
By custom, he receives it only during a traditional Buddhist ceremony. This usually happens a few weeks after the baby is born. The princess, who is currently third in line to the throne, however, must take into account that any other male descendant of the king takes precedence over her.
However, it can be assumed that Like his two brothers, he would soon play a prominent role in state events. The Dragon couple is very modern and keeps themselves updated about their activities through social media as well. Their children also appear in occasional photographs, performing their first royal duties at a young age.
Jetson loves art and protects nature
Their mother Jetson is a great example for them. She perfectly mirrors her husband. She accompanies him on most of his business trips. Among other things, he is very involved in nature conservation issues. He works closely with organizations working with children with special needs and is the Honorary President of Bhutan Red Cross Society. And what does he want to do in his personal life? He studied art and is very interested in painting.
He also likes basketball. As a girl, she was the captain of the basketball team in her school and has been loyal to the sport of football ever since. Interestingly, in childhood he was also active in school dance and music groups. Although she has a model appearance and is a very independent woman, she is true to the traditions of her people.
Her wardrobe does not contain the creations of global brands or prestigious fashion designers. Jetson wears only traditional Bhutanese clothing known as Kira. It is not only for this reason that Bhutanese people love it.
. "Hardcore internet junkie. Award-winning bacon ninja. Social media trailblazer. Subtly charming pop culture advocate. Falls down a lot."