Alexander Lukashenko attacked Poland again. According to the Belarusian dictator, his political opponents are financed "mainly from Poland", and the protests in Belarus were financed by Warsaw. "This is a conspiracy to break Belarus," Putin's ally said.
The head of Belarusian intelligence threatens: Polish territory with the first target of attack
The head of the Belarusian intelligence service, Ruslan Kazykin, says that Poland may attack Belarus on its own, and it threatens to meet a decisive …
See more
The Belarusian dictator gave an interview to the French news agency AFP. Lukashenka said the war in Ukraine "must end to prevent denuclearization". He also appealed to Kiev to accept Moscow's demands.
– We must stop, reach an agreement, end this chaos, activity and war in Ukraine – said a key ally of Vladimir Putin. "Let's stop and then figure out how to live," he said.
Lukashenko's lies about the war in Ukraine
He also lied that it was the West that fueled the conflict with Russia and the war in Ukraine. – You provoked the war, you continue it – the Belarusian dictator contradicted the facts. "Members of NATO, if Russia had not overtaken you, you would have organized and beaten her," he repeated Putin's words.
Lukashenka, 67, who has ruled Belarus for nearly three decades, insists he can end the war if officials in Kiev resume talks with Moscow and accept his demands. – It all depends on Ukraine – he said.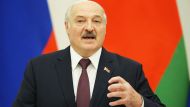 Lukashenka threatening Poland? "We must react"
We must react. Because we cannot allow the Poles to surround us, said Alexander Lukashenko. Falsifying reality…
See more
– The peculiarity of this moment is that this war can be ended on the most acceptable terms for Ukraine – he said and called on the authorities in Kiev to "sit down at the negotiating table and agree that they will never threaten Russia."
Lukashenko said Ukraine must accept the loss of Russian-occupied territory in eastern and southern Ukraine.. – This is no longer up for debate. It may be discussed in February or March – he added.
In the same interview, the Belarusian dictator admitted that he runs a totalitarian state, but said that there are no political prisoners in his country. – Yes, our power structure is rigid. I don't even exclude the word "authoritarian". – said Lukashenko.
However, this is an outright lie. Belarusian advocacy group Vyasna says there are currently 1,259 political prisoners in the country.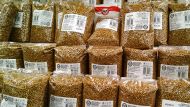 Lukashenka said the Poles were "begging" for him. Belarus bans the export of groves
Alexander Lukashenko's regime banned the export of wheat flour and buckwheat from Belarus. Prime Minister Raman signed the decree in this regard.
See more
Lukashenka, however, insisted he was "not a dictator". He reiterated that his political opponents were financed from abroad, mainly from Poland. – What, you wanted me to be quiet? – he said, adding that these protests were a conspiracy by Warsaw to "break Belarus".
The dictator continued to attack Poland. – The idea is crazy, but it seems to me that if other countries, for example, Poland, continue to behave like this, we – Russians, Belarus and Ukraine – will unite and fight against you – he said.
According to him, "some figures and politicians in Poland are sharpening the ship and see Western Ukraine as part of Poland".
When will Lukashenka leave?
The head of the Belarusian regime was asked when he intends to resign from power. Lukashenka did not give a clear answer.
– Perhaps if there was a certain situation in the country and outside it, I would have left power long ago – he explained. – (…) What if I quit everything in 2020? Today the country will be different and you will be interviewing other people. And the policy would be different: it would be worse in Belarus than in Ukraine today, he said, apologizing for "his lack of discipline."


Source:
zerkalo.io, tvp.info portal
#Belarus
#AlexanderLukashenka
#Dictator
#War
#Poland
. "Hardcore internet junkie. Award-winning bacon ninja. Social media trailblazer. Subtly charming pop culture advocate. Falls down a lot."