A Tokyo court has ordered a retrial of 87-year-old Iwao Hakamada, who was sentenced to death for murder half a century ago, the world's longest serving death row judge. According to the prosecution lawyers, the verdict was based on a coerced confession and false evidence.
Iranian with Swedish passport sentenced to death
Iran's Supreme Court has upheld the death sentence of Swedish-born Iranian dissident Habib Farajolla.
See more
"I've been waiting for this day for 57 years and it's finally here," said Hideko Hakamada, 90, the convict's sister, who has been pushing for a retrial for years.
Hakamada, a former professional boxer who worked at a miso soybean paste factory, was sentenced to death in 1968 for killing his boss, his wife and two teenage children. Their bodies were found in a burnt house in Shizuoka city.
After his arrest in 1966, he initially pleaded guilty, but continued to maintain his innocence during interrogation, claiming that the police coerced him into confessing. However, the Supreme Court upheld the conviction in 1980.
Since then, Hakamada remained on death row until 2014, when a provincial court decided to free him, suspend his death sentence and reopen the trial because DNA tests showed that the blood on the clothes found in the Miso bin was not his.
After repeated appeals by Hakamada's lawyers and defenders in 2020, the Supreme Court sent the case back to a Tokyo court, ruling on Monday that the trial would be retrialed. However, Hakamada has not yet been cleared of the charges, according to an account of events published by the Kyodo Agency.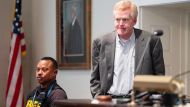 A lawyer from a legal dynasty dies in prison. He shot his loved ones in puppies
Former South Carolina prosecutor Richard "Alex" Murdock was sentenced Friday to two life sentences for killing his wife and son. Comes from…
See more
Hakamada's supporters did not immediately tell him about Monday's court ruling, so as not to cause him undue stress. According to them He is suffering from many diseases due to many years of imprisonment.
Death penalty in Japan
Japan is one of the few developed countries that still has the death penalty. Sentences are executed, usually several years after their conviction. Officials inform the guilty only hours before the execution.
The Tokyo court's ruling was welcomed by opponents of the death penalty. According to them, the retrial should be held soon with Hakamada participating in it.
"This verdict marks a long overdue for a modicum of justice for Iwao Hakamada, despite being unfairly convicted in a death penalty trial more than half a century ago," said Hideki Nakagawa, director of Amtesti. International Japan.
– Hakamada's conviction was based on a forced "confession" and there are serious doubts about the other evidence used against him. However, at the age of 87, he has yet to be given the chance to challenge the sentence, and because of this he has spent most of his life with the constant threat of execution, Nagagawa added.
Source:
Pop
#Japan
#Death Penalty
#procedure
#iwao hakamada
. "Hardcore internet junkie. Award-winning bacon ninja. Social media trailblazer. Subtly charming pop culture advocate. Falls down a lot."