Israel said on Saturday evening that its military forces were preparing to implement a "wide range of operational offensive plans" ahead of an expected large-scale ground invasion of Gaza following a Hamas attack on Israel.
The Israeli army said its soldiers are deployed "all over the country" and are working to increase "operational readiness for the next stages of the war, with a focus on important ground operations."
Israeli forces have been bombing the Gaza Strip since Hamas launched a devastating attack last week. In recent days, hundreds of thousands of Palestinians have fled their homes after Israel ordered 1.1 million civilians – nearly half of Gaza's population – to leave the densely populated northern part of the enclave, including Gaza City.
"We are attacking Gaza City because it is the center of Hamas' rule and its terrorist military capabilities, and we have to hit it very hard," Daniel Hagari, an Israeli army spokesman, said in a press conference with reporters.
The Israeli army added that its forces are preparing for an "expanded combat zone" and that the operations being prepared "could include joint and coordinated strikes from the air, sea and land."
The announcement follows efforts earlier on Saturday to enable Palestinians with dual US citizenship and other foreign passport holders to leave Gaza via the Rafah border crossing into Egypt, after Israel informed diplomats it would allow some departures.
However, no one was allowed to leave, according to four diplomats working on the case. One official said convoys were moving "back and forth" with conflicting reports about why the border was not open.
An American official said that they encouraged Palestinians who hold dual American citizenship to go to the Rafah crossing, but the situation kept changing.
An Arab diplomat said that the Biden administration asked Qatar to persuade Hamas not to prevent Palestinians who hold American citizenship from leaving the Gaza Strip, which the Islamic movement agreed to. The official said that the United States asked the Egyptians to open the Rafah crossing and allow them to pass, but "the Egyptians have not yet agreed to open the border to the Americans."
The Rafah crossing is the only exit from Gaza not controlled by Israel, and has remained largely closed, leaving no way out for the 2.3 million Palestinians trapped inside the enclave since Israel imposed a blockade in 2007 in response to Hamas's violent takeover of the Strip.
Cairo has long had concerns that Israel wants to transfer its problems with Gaza to Egypt.
Michael Wahid Hanna, an analyst at the International Crisis Group, said Egypt "simply will not agree to provide safe passage for US citizens and other foreign nationals unless there is also an agreement to open the border to humanitarian supplies."
A source familiar with the talks said that Qatar and the United States are working separately to finalize an agreement on the release of civilian hostages held by Hamas.
The source added that the agreement would require Israel to stop its bombing of Gaza to allow Hamas to safely release the hostages and safely deliver humanitarian aid to the Strip.
A person familiar with the talks said: "Positive meetings were held yesterday, and it appears that Hamas is ready to release civilian hostages, but Hamas says it cannot do so while the bombing continues." "They need the Israelis to stop bombing Gaza for a short period of time in order to safely release the prisoners."
US Secretary of State Anthony Blinken held talks with the Qatari Prime Minister on Friday as part of a tour of the region. Qatar is an ally of the United States and also hosts the political office of Hamas.
The Israeli military said that Israel had identified 120 hostages taken during the Hamas incursion.
Israeli authorities said that Hamas killed at least 1,300 Israelis, most of them civilians, in the attack on southern Israel. Palestinian health officials said at least 2,515 people – 1,182 of them women and children – have been killed in Gaza since Israel began its bombing.
The US State Department said on Saturday evening that 29 American citizens were killed, while 15 remained missing.
The warning issued by Israel to the Palestinians in northern Gaza to move to the south exacerbated the humanitarian crisis in the Strip, and was condemned by Arab countries and the United Nations.
The European Union's top diplomat said on Saturday that Israel needs to respect international law.
"It is absolutely impossible to implement," Josep Borrell said during a visit to Beijing.
The Israeli army refused to discuss any deadlines, but repeated its demand that civilians leave as soon as possible. "Follow our instructions – move south," said Lieutenant Colonel Richard Hecht, an IDF spokesman.
Ayman Safadi, Jordanian Foreign Minister, said Israel's order for Palestinians to leave northern Gaza while the war was "raging" was a "flagrant violation of international law, international humanitarian law and the law of war."
He added that the Israeli attack is causing a humanitarian catastrophe that represents "collective punishment of more than two million Palestinians" and is "pushing the entire region towards the abyss."
Israel cut off food, fresh water and electricity from Gaza. The United Nations said water supplies were severely low, forcing people to drink brackish water, raising fears of the spread of disease.
"Death is better than this life," said Mona Hanafi, 55, who took refuge in a UN-run school after her home was destroyed in Gaza City. "There are very few bathrooms and no water. We have only eaten biscuits since yesterday. We went to the supermarket and found nothing there.
Israeli army spokesman Jonathan Conricus said that Israel intends to "strengthen its military operations" in Gaza City, the largest city in the Strip and the center of Hamas' political and military apparatus.
US President Joe Biden on Saturday told Israeli Prime Minister Benjamin Netanyahu that the United States is coordinating with other countries "to ensure that innocent civilians have access to water, food, and medical care," according to the White House.
Its statement also stated that US Secretary of Defense Lloyd Austin stressed to his Israeli counterpart Yoav Gallant "the importance of adhering to the law of war, including obligations to protect civilians, and addressing the worsening humanitarian crisis in Gaza while Israel continues its operations to restore security."
The White House said Biden also spoke with Palestinian Authority President Mahmoud Abbas.
Additional reporting by Simon Kerr in Dubai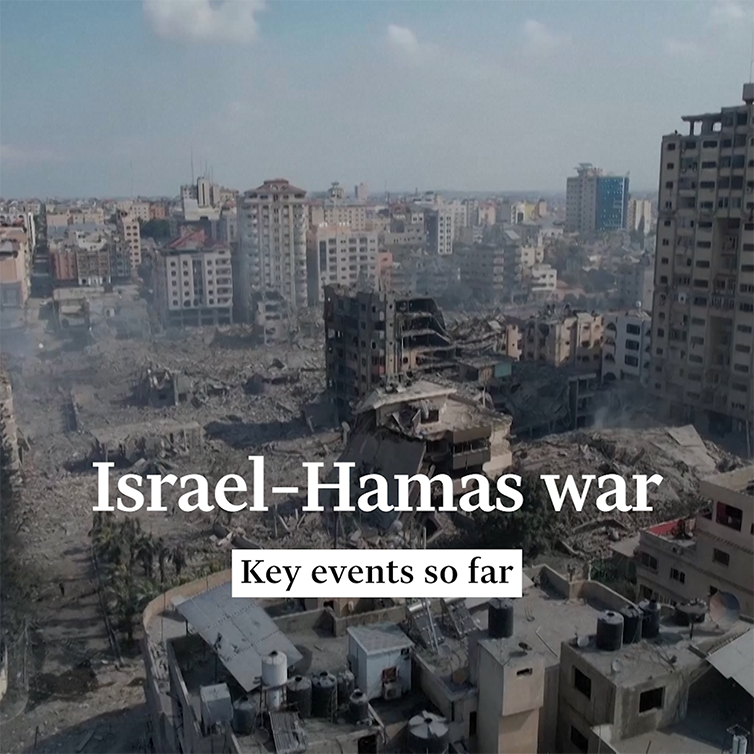 "Lifelong food lover. Avid beeraholic. Zombie fanatic. Passionate travel practitioner."