At least 8,306 Palestinians from the Gaza Strip have been killed since the start of the war with Israel, including 3,457 children, the Hamas-controlled territory's health ministry said on Monday. After three weeks of bombing, there was great destruction. According to local authorities, the number of recently injured was more than 19,000. – These numbers are constantly growing – says Draginja Nadażdin Onet.
1,400 killed in Hamas attack People and about 200 people are being held hostage. In addition, half a million Israelis had to flee their homes in the north of the country for security reasons.
The Gaza Strip is becoming a scary place
Public infrastructure has been destroyed, including hospitals, banks and schools. – The situation in Gaza is dramatic, "From October 20 to 29, a total of 84 trucks with humanitarian aid arrived there, including Doctors Without Borders," Natasin says.
Meanwhile, until October 7 this year. Every day 300 to 500 trucks were carrying different kinds of goods. – Even then, most people used humanitarian aid there. That is, we hear that even before the current war, the Gaza Strip could not function normally without support and assistance.
The blockade of the Gaza Strip means no electricity, food or drinking water. There is also a shortage of fuel needed to generate electricity.
– warns the director of Doctors Without Borders in Poland.
He said the hospitals not only lacked electricity, but also lacked medical supplies, clothes and anesthetics. – A communications blockade makes it impossible to coordinate rescue, medical and humanitarian operations. Many people trapped in the rubble remain inaccessible. Today we are faced with many situations, which means that our help simply cannot continue – he explains.
There is a shortage of food, drinking water and medical supplies. People have nowhere to escape

Nadażdin said that staff from the international group Doctors Without Borders are currently in southern Gaza, but "they are unable to coordinate humanitarian operations because of the lack of basic security guarantees."
– Some of our Palestinian collaborators joined the hospitals in the northern part of Gaza. We are still waiting for the Israeli authorities to allow us to enter, provide new assistance and bring in new people to replace the international team currently on site. We are ready to send specialized medical rescue teams as soon as the situation permits – He convinces.
The human rights activist notes that the organization was recently able to import 26 tons of medical supplies to Egypt, "which should soon be delivered to medical facilities in the Gaza Strip." The problem is, "It's not currently possible." — This is a key moment for our support to reach those in need, ie hospitals and other medical facilities directly.
Hospitals in Gaza are overflowing. As Nadażdin notes, new people arriving at facilities often cannot be helped. – Entire families have nowhere to hide, nowhere to escape. Not sure what will happen. Some of our Palestinian collaborators lost their homes and some of them lost their family members. Surgeries and procedures are performed without proper anesthesia, and morgues are overflowing with bodies. What people face here is pure hell on earth. The crisis has been going on for years, but the current level of violence and destruction is unprecedented – we hear.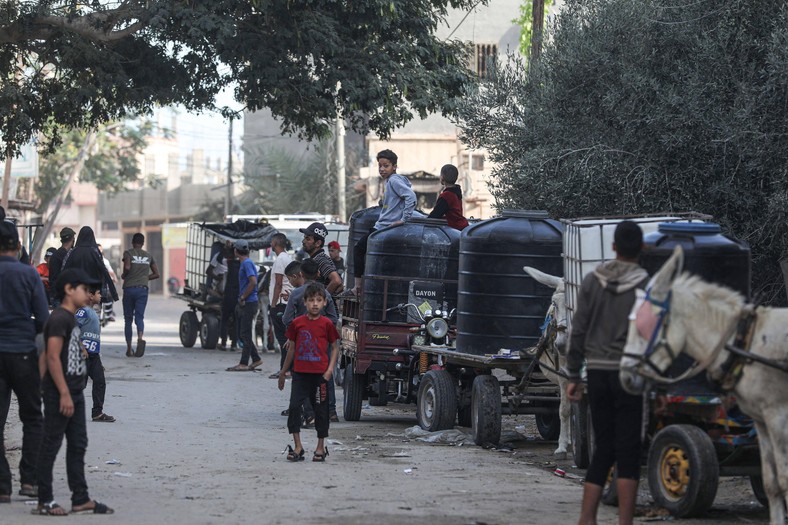 ABACA / PAP
Food and water are scarce commodities in the Gaza Strip

"John hasn't slept in weeks."
Doctors Without Borders calls for an immediate ceasefire so that medical and humanitarian aid can reach those in need. — Medical facilities and staff should not be targeted on either side. Orders to evacuate hospitals cannot be enforced. You can't make such demands, says the organization's director, adding that disturbing news is coming from the West Bank as well.
– We got information that violence is also increasing there. According to the data provided to us, more than a hundred Palestinians, including 30 children, have been killed since October 7. Our project coordinator has confirmed that the city of Jenin has not slept for weeks. The frequency of these attacks has scared people. Everyone has a sense of helplessness and despair, Draginja Nadażdin describes.
Residents of the Gaza Strip need medical assistance immediately and will need it for a long time regardless of the development of the situation in the region. – That is why we started a special fund collection for the victims of this war – he says.
Donations can be made at Pomocm.pl – Crisis in the Gaza Strip | Pomocam.pl
. "Hardcore internet junkie. Award-winning bacon ninja. Social media trailblazer. Subtly charming pop culture advocate. Falls down a lot."