US President Joe Biden ahead of a meeting with the President tomorrow European Commission Ursula van der Leyen In Washington, US officials are warning Europe about China, but also making important promises. Based on your intelligence information America China says it is considering arming Russia In War with Ukraine. However, these voices caused a mixed reaction in Europe.
Some European leaders like Chancellor German Olaf Scholes, used harsh words on China and warned them against taking such a step. Others, including Ursula van der Leyen, took a more cautious stance.
As for the pledges, US officials say European companies will have access to some tax breaks and subsidies from the landmark US climate law passed last year.
Europe's response is ambiguous at best. Many countries are reluctant to withdraw from China's lucrative market, not least Germany, which has strong trade ties with Beijing.
This situation exposes the divisions between the United States and the states European union About China's growing economic and military power.
– Europeans have already experienced a deep economic shock due to Russia's isolation. "They can't imagine doing the same to China," said former government official Heather Conley US Department of StateOverseeing European and Eurasian affairs in administration George W. Bush.
However, increasing pressure from the US and disturbing intelligence about China means the EU is slowly succumbing to US propaganda. For example, it has said it is considering whether to continue using equipment from Chinese companies such as Germany Huawei and ZTE. Netherlands In turn, it announced a ban on sales of advanced chip printers to China.
– This is where America must create an alternative where we work to strengthen Europe and our allies Asia said Conley, who is now president of the German Marshall Fund, an American think tank. He points out that technology, key minerals and supply chain regulations should be developed with the needs of allies in mind.
Heather Conley at Global Security Challenges and Strategy Inquiry, March 1, 2022, Washington, DC.
European officials are counting on progress to ensure the EU has access to a grant program based on this. Inflation Act. The two sides are currently working on a special amendment that would give European companies access to US subsidies to such free trade partners. Canada And Mexico. In response, the EU will float the idea of ​​a "critical raw materials club" — a group of like-minded countries that would join forces to counter China's dominance in the sector.
Europe has severe shortages of minerals such as lithium and cobalt, which are used in both car batteries and solar panels. Ursula van der Leyen pointed out during her recent visit to Canada that this country could provide Europe with these coveted resources.
China produces 98% of European rare earths. The President of the European Commission noted at the meeting that Europe must rid itself of this risk of bias.
US Trade Representative Kathryn Doi said:[cel] As important as it is for the EU or our other partners."
U.S. officials have denied that Biden is linking friendly U.S. trade policies to expectations of European action on China.
– The EU makes its own decisions. "There is unprecedented agreement between the United States and Europe on the concerns raised by the People's Republic of China, and we continue to coordinate efforts in this regard," said a spokesman for the White House National Security Council.
A senior State Department official said that urging the European Union to take a tougher approach to China has been central to the Biden administration since the beginning, and insisted that Europe is now more closely aligned with the US viewpoint than ever before.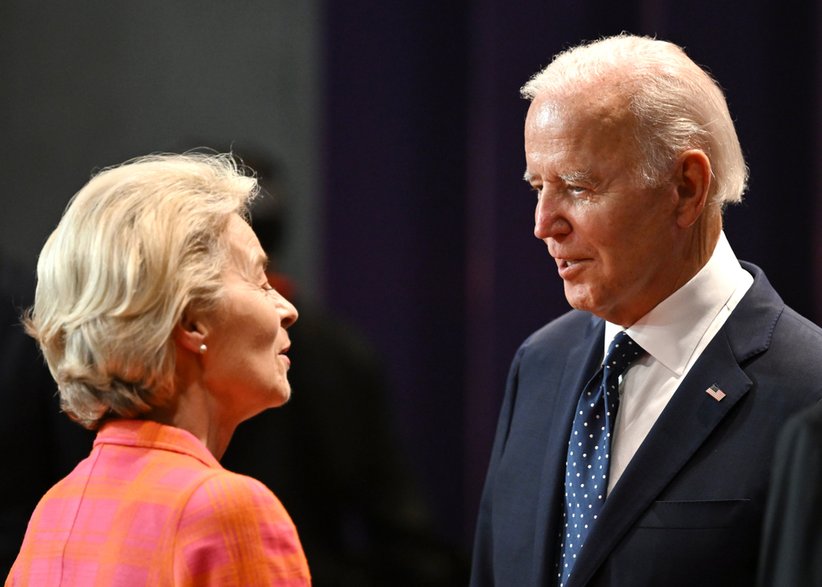 European Commission President Ursula van der Leyen with US President Joe Biden during the G20 Leaders' Meeting in Bali, 15 November 2022.
Another US official said the US administration did not see it as a deal. "We share information, engage in constant dialogue, and warn each other against over-dependence on any country, be it Russia or China," he said.
— [Stany Zjednoczone] It is betting that Europe will make a material contribution to the conflict with China. However, the leaders of Europe's biggest economies have made it clear that they are unwilling to impose significant economic sanctions on Beijing in the event of a conflict. So if the Biden administration thinks that US policy toward Europe will work in light of the challenge posed by China, there will be a huge disconnect," said former US Defense Department official Elbridge Colby.
Van der Leyen insisted in January World Economic Forum In Davos the EU wants to "minimize risks" but not "disengage" from China. However, there are signs that the EU's policy towards Beijing is tightening. European officials have signaled in recent weeks that they are ready to impose sanctions on China Beijing They would cross their red line and supply arms to Russia.
American diplomats shared disturbing intelligence about China with European leaders. They argue that Beijing is considering sending weapons and taking a hard line in the war. Ukraine.
The rest of the article is below the video:
The latest intelligence released to US officials over the past month indicates that China is considering sending drones, munitions and other small arms. of Moscow in support of its war effort. In recent months, Russia has concluded agreements Iran And North Korea. US officials fear Beijing could be next.
A European diplomat said the United States has evidence to support claims of China's support for Russia. Ursula van der Leyen said there was no such thing in Washington. However, his report concerns evidence submitted to the EU as a whole, not to individual European countries. On the same day, German Chancellor Olaf Scholz said China had promised not to send weapons to Russia.
According to a senior US official familiar with the matter, US officials have raised the issue of future additional sanctions against Chinese companies believed to be in violation of existing US sanctions on Russia in diplomatic talks with their European counterparts.
"If China decides to supply Russia, Europe's main geopolitical adversary on the continent, with lethal weapons, the European Union will act decisively," said Max Bergman, a former US State Department official.
"The Europeans don't really care about China. It's about Russia. I don't think the US has to do much to get Europe to react," Bergman added.
. "Hardcore internet junkie. Award-winning bacon ninja. Social media trailblazer. Subtly charming pop culture advocate. Falls down a lot."