Ukrainian President Volodymyr Zelensky has been denied the right to speak, and Alexei Navalny has been confirmed, Prime Minister Mateusz Morawiecki pointed out on Friday's edition of his podcast. Last week, the Academy of Motion Picture Arts and Sciences rejected the Ukrainian leader's request to speak at the Oscars for a second time. During the 95th awards ceremony, the film was announced as Best Feature Documentary. "Navalny" by Daniel Rohr.
Zelensky was denied participation in the Oscar ceremony. Reaction of the John Karsky Society
Just as in 1943, Hollywood turned a deaf ear to John Karsky's work on the Nazi extermination of Jews, today, exactly 80 years later, it does not.
See more
Read more in the report: War in Ukraine
The Prime Minister noted that in recent weeks his podcasts have only dealt with political issues. "I decided to turn my attention to culture and share with you my thoughts on the Oscars. It's still a story about politics, but from a slightly different perspective, he said. He emphasized that cinema today is the most important and widely accessible cultural field that brings politics and international relations closer to people around the world.
"Hollywood has a huge influence. The Oscars are a powerful global brand, a very important reference in cinema and mass culture. The prime minister assessed that the Oscars are a big poster. He added that it is not surprising that it is a place to promote "political statements". – A few, or "For a dozen or so years, the Oscars didn't reflect the political mood because they tried to channel that mood themselves," he noted.
Did Zelensky speak at the Oscars?
In this context, he said, "it is striking that once again President Zelensky was not allowed to speak, and the issue of the bloody war was completely silenced." He recalled that the call for participants to present miniature flags of Ukraine was completely ignored, and one of the few exceptions was Jerzy Skolimovsky, who pinned the colors of Ukraine to the lapel of his jacket.
The Ukrainian leader's speech at this year's Oscars, sought after by others, was American producer Mike Simpson. He represents Aaron Kaufman, who directed the documentary about Zelensky with Penn. "Superpower". The American Academy of Motion Picture Arts and Sciences declined Zelensky's request to comment on the situation in Ukraine, which has been attacked by Russia.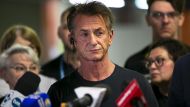 Will Zelensky speak at the Oscars? Ben: If I don't, I'll destroy my idols
The Oscars will be held on Sunday night. Actor Sean Penn made a request for a speech to CNN during the gala.
See more
The prime minister said he shared the bitterness of Ukrainians who felt negatively about the award for best documentary about Russian dissident Alexei Navalny.
"Navalny's Pledge"
– Perhaps this is hope for Russia, but it is difficult to say that it is hope for its neighbors. Russia's real problem is not a dictator holding the reins of power at any given time. The source of the problems of Russia and its neighbors is imperialism and colonialism, which are an inseparable part of Russian nationalism, and the hero of the documentary, Daniel Rohra, never hides it.. President Zelensky is denied the right to speak, Alexei Navalny is confirmed, Morawiecki said.
He recalled that Navalny fully supported the attack on Georgia and the annexation carried out by Russia, and that despite being imprisoned by the Kremlin regime, he communicates freely with the world. He compared the story about Navalny to the pretentious movie "Valkyrie" about Klaus von Stauffenberg, which was "presented as a classic German rebellion against a tyrant's rule" and "good Germans" as the first opponents of Nazism.
From the Navalny camp writes a blog: Putin's regime must be overthrown
Alexei Navalny, a leading Russian opposition figure in a penal colony, was released on the anniversary of Russia's invasion of Ukraine.
See more
He recalled that von Stauffenberg fully supported the Reich's imperial goals, but disagreed with Hitler's methods. "Navalny's proposal is like imperialism with a human face. Perhaps that is why Putin considers Navalny a threat, but allows him to communicate with the whole world. He added that anti-democracy was no match for him today, but that a different imperialist policy might suit Russians' ideological needs.
At the end of his speech, he drew attention to Navalny's family's popular online list at the Oscars with photos of victims of Russian aggression against Ukraine: "Putin's Victims." – This reflects my own misgivings about Oscar-related politics – Mateusz Morawiecki in a nutshell.
read more: Zelensky is one of the few leaders to address the US Congress twice
The forum for virtual talks is available to Zelensky, among others, prestigious institutions and organizers of cultural events such as film festivals in Cannes, Berlin and Venice. In America, he addressed his message to millions during the Grammy Awards and Golden Globes broadcasts.

Source:
Pop
#Ukraine
#Oscar
#Volodymyr Zelensky
#President
#Prime Minister
#mateusz Morawiecki
#Alexei Navalny
#Russia
. "Hardcore internet junkie. Award-winning bacon ninja. Social media trailblazer. Subtly charming pop culture advocate. Falls down a lot."