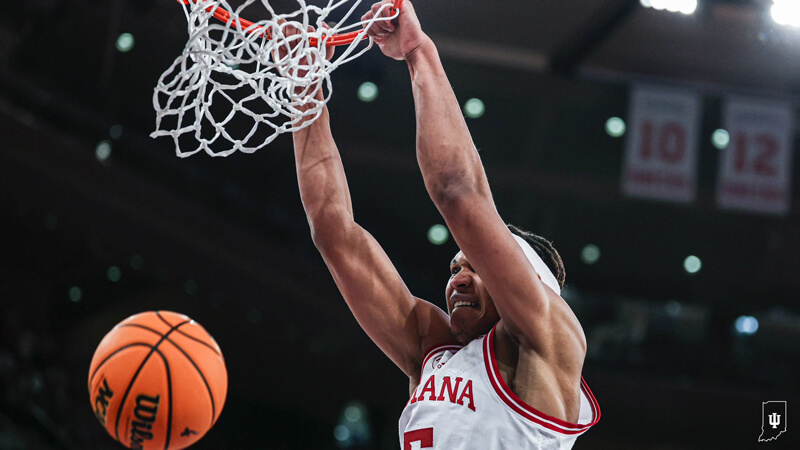 Indiana State suffered its first loss on Sunday afternoon, falling 77-57 to UConn at Madison Square Garden in New York.
Here are five takeaways from the loss to the Huskies:
Indiana dominated on the glass
The Hoosiers have struggled on the glass in each of their first three games, a warning sign of what's to come against better competition.
On Sunday, UConn dismantled the Hoosiers on the glass.
The Huskies grabbed 15 offensive rebounds and outscored Indiana 16-0 on second-chance points.
"That's been a big concern since we started this journey," Mike Woodson told Don Fisher on the postgame radio show. "The two exhibition games and then the first few games."
This remains a major concern.
Outside of Kel'el Ware, every player on IU's roster has been below average on the boards through three games. Malik Reno had just three rebounds against UConn and is averaging less than five rebounds per game. Trey Galloway has a total of six rebounds in four games. Mackenzie Mgbako has 11 rebounds in four games. Xavier Johnson has eight rebounds.
Indiana now ranks outside the top 300 in defensive rebounding percentage nationally. Opponents are rebounding more than 35 percent of their missed shots against the Hoosiers.
The Hoosiers continue to not focus on the three-point shot
Another game, another contest where Indiana seems indifferent to attempting shots from outside the field.
The Hoosiers made just 13 3-pointers on Sunday — UConn had 22 — and were outscored by 12 points from behind the 3-point line.
Through three games, Indiana State ranks in the bottom 15 nationally in point distribution from 3-pointers. The Hoosiers are making just 27.3 percent of their points from long range.
In every game this season, Indiana has been outscored by double figures from beyond the 3-point line.
While it's unrealistic for Indiana to take a ton of 3-pointers with its personnel, continuing to outperform the perimeter by such a large margin is not a winning formula in the long run.
Mackenzie Mgbako continues to struggle
Freshman Mackenzie Mgbako followed up his best game of the season against Wright State with a memorable performance against UConn.
Mgbako scored two points in 23 minutes on 0-for-3 shooting from the field. His only points came from the free throw line.
His defense was an equally stark case.
Mgbako continues to be overwhelmed by simple plays such as cutting backs as he is often out of position and stands upright when off the ball rather than getting down in a defensive position.
Through four games, his play has not warranted a spot in the starting lineup moving forward.
Foul trouble from Xavier Johnson limits his minutes and hurts Indiana's play in the backcourt
Johnson picked up two fouls in the opening minutes of Indiana's loss on Sunday and a third foul later in the half sent him back to the bench.
He played a total of three minutes in the first half.
Without Johnson on the floor, UConn guard Tristen Newton took control of the game.
Newton scored a game-high 23 points, had six assists, grabbed 11 rebounds and had two steals in 34 minutes.
As one of Indiana's key pieces, Johnson's absence was a game-changer for the Hoosiers. As a sixth-year senior, Johnson has to avoid a situation like Sunday where he played only 14 minutes due to foul trouble.
Career day for Renault owner leading the way offensively
The bright spot for Indiana State offensively on Sunday was Reno.
The 6-foot-8 sophomore from Miami finished with 18 points on 7-for-9 shooting from the field.
He also blocked three shots, but made a mistake in 27 minutes.
Through four games, Reneau is 25-for-37 on 2s (67.6 percent).
Renault's footwork has become better this season and he also looks more comfortable making moves when holding the ball at the post. While Ware has been Indiana's best player overall through four games, Reno is a cornerstone for IU's program moving forward.
(Image credit: IU Athletics)
Submitted to: Connecticut Huskies
 "Coffee ninja. Web fan. Hipster-friendly beer enthusiast. Professional creator."